Today's best websites design for conversion and are not the virtual brochures of earlier years. Long gone are the days of launching a website with lots of information and hoping people will find something they're interested in. 
Today's visitors are savvy, impatient and know what they want. They don't want to be bombarded with information they're not interested in. Otherwise, they will leave. Instead, visitors want to be engaged and entertained and are looking for a site that's easy to navigate and has a clear call to action.
So how do you design a website for conversion in a very crowded space? 
What Is Website Conversion?
Before we get into the specific design elements that websites need for conversion, let's understand what website conversion actually is. Very simply, a conversion on your website occurs when a visitor completes a pre-determined action. 
This can be as easy as a visitor clicking on a link or filling out a form. It can also include signing up for a newsletter or sharing content on social media. Of course the ultimate website conversion is purchasing a product or service you are promoting on your website. 
Do This, Not That

 
Think about it. How many times have you seen a website and thought, 'That looks like a great website,' then click away, never to return again? 
Unfortunately, this is the rule and not the exception. It occurs with the very basic of websites as well as with high ticket, professionally designed websites. Not only do visitors come and go, the only trace they leave behind is confirmation of their visit in the analytics tracking system. That's all you know. They came, and they left. And that's about it.
Instead, with just a little planning, you can have a website that not only looks good but also ultimately converts visitors into loyal customers.  
Best Websites Design – 3 Key Elements Needed 
As noted earlier, visitors want a site that is engaging and interesting, easy to navigate, and has a clear call to action. To do that your website must possess the following three key elements if it is to effectively convert. It should be 1) simple, 2) compelling and 3) engaging. 

1. Best Websites Design Is Simple
Visitors want a website that is easy to use and navigate.  They aren't interested in having to spend time figuring out how a site is organized and how to use it. Furthermore, they want to be able to find what they need right away. That's why it's important to use easy-to-read fonts, simple navigation and clear calls to action.
With the increased use of mobile devices, it's even more important to make sure that websites are mobile-friendly. That means text should be large and easy to read on a small screen. Plus, it should be scrollable and have a clear call-to-action.
2. Best Websites Design Is Compelling
Visitors want to be attracted to your website. They want to be drawn to your site not only by the aesthetics, but also by the content. Consistent branding brings a professional "look and feel" to your site. While it begins on the home page with a compelling headline that differentiates you from others, it is essential that it continues throughout the site. Also, it's crucial that  your site's content is interesting. Use storytelling to help explain why you are unique and the best choice that your visitors can make. 
3. Best Websites Design Is Engaging
Visitors prefer engaging websites. You can accomplish this by inviting them to participate in your site's content through stories of their own, reviews of your products, or using a call-to-action asking them to sign up for your newsletter. You can also use social media to engage your visitors and encourage them to share your content. Short surveys are also a technique that provides quick feedback on what your visitors want and how your business stacks up.
Incorporating these three elements into your website helps you to attract more visitors and improves your conversions. For the remainder of this article, I'll focus on the step-by-step process of creating a simple, compelling and engaging website.
3 Step Framework for Website Conversion
While it is important to know what traits your website should have for better conversions, it is even more important to know how to execute it. The following 3-step framework will help you create a compelling website that will ultimately convert your visitors into customers.
The framework can also be used for other promotional activities including email campaigns, advertising, social media posts and more. For now, let's start with the website and jump into the 'Hook – Story – Offer framework.'
1. Hook
A 'marketing hook' is usually a short, catchy phrase that is used to draw someone's attention and spark interest. In the case of a website, the hook should be something that will immediately grab a visitor's attention. It should appear in the headline or in the first few sentences of the page. 
Here is an example of a wireframe for a nonprofit website that demonstrates where the marketing hook should be placed.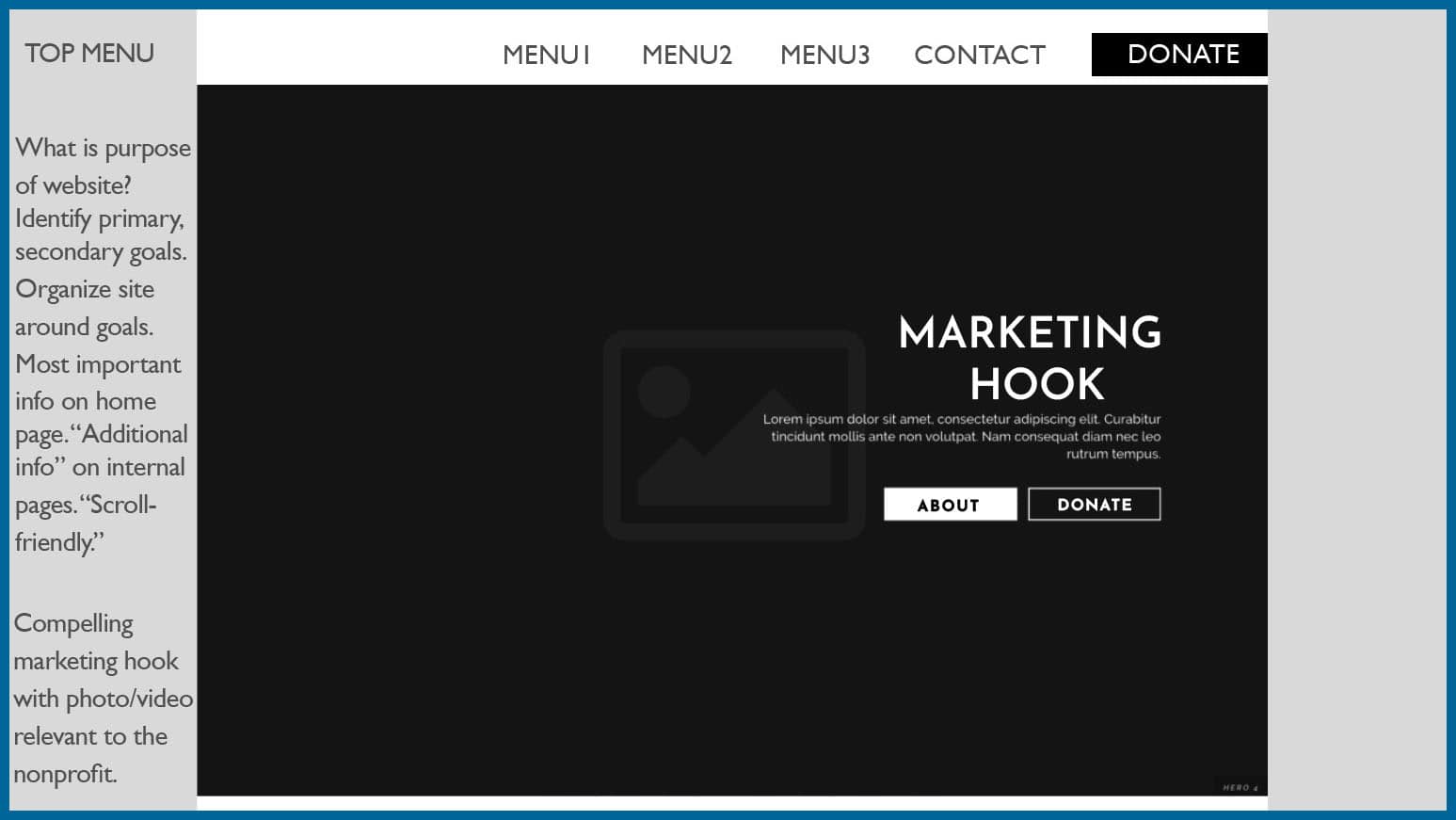 The hook should be something that is relevant to the content on the page. A good hook can make the difference between reading the rest of the page or clicking away. 
A marketing hook does not represent a business's entire offering. It is a tease that conveys information about a company and its products or services. 
Additionally, it may help to reinforce a business's most positive qualities (such as fair prices and exceptional customer service.) 
Hook Examples
Some examples of hooks that also substitute as taglines are: 'The world's most powerful vacuum cleaner, the Roomba,' 'Like a good neighbor, State Farm is there,' (David Auto of Glen Mills PA) 'I've always been your dealer; you just didn't know it yet.' Other small business hook examples, according to Entrepreneur are:
Dentist: Just relax. We know the drill.

Bakery: A fresh approach to your morning.

Car wash/detailer: Leave the details to us.

Orthodontist: We'll give you the straight talk.

Cleaning service: We do the dirty work.
2. Story 
Facts tell, stories sell. Successful businesses know that stories are powerful marketing tools. It's important to have a consistent brand narrative across all your marketing channels. Mastering storytelling connects you with your audience in an authentic way, helping create the customer loyalty needed to sustain revenue long term. 
Once you create your hook/headline on your homepage, you'll follow it with several different storylines. This is where you take your visitor on a carefully choreographed journey that ultimately leads to your offer or call-to-action (CTA). 
Hook Story
The first story is the 'hook story,' which supports your marketing hook headline. This is a story that introduces your business and makes a compelling case why your business is unique and is the right choice for the visitor. It may be a story about your products or services, a story about your team or your mission. Think what is it that makes your business special. 
The hook story is the foundation of your entire website and should be written in the first screen of your homepage ("above the fold"). It should be written in a way that is compelling and easy to read. It should be short and to the point and use the visitor's language.

Impact Story
Next, is an 'impact story' video that introduces your business and makes a compelling case for why your business is unique and is the right choice for the visitor. This is a video that shows your team in action, talks about your mission and what makes your business different from others in the market. It's a video with a call to action.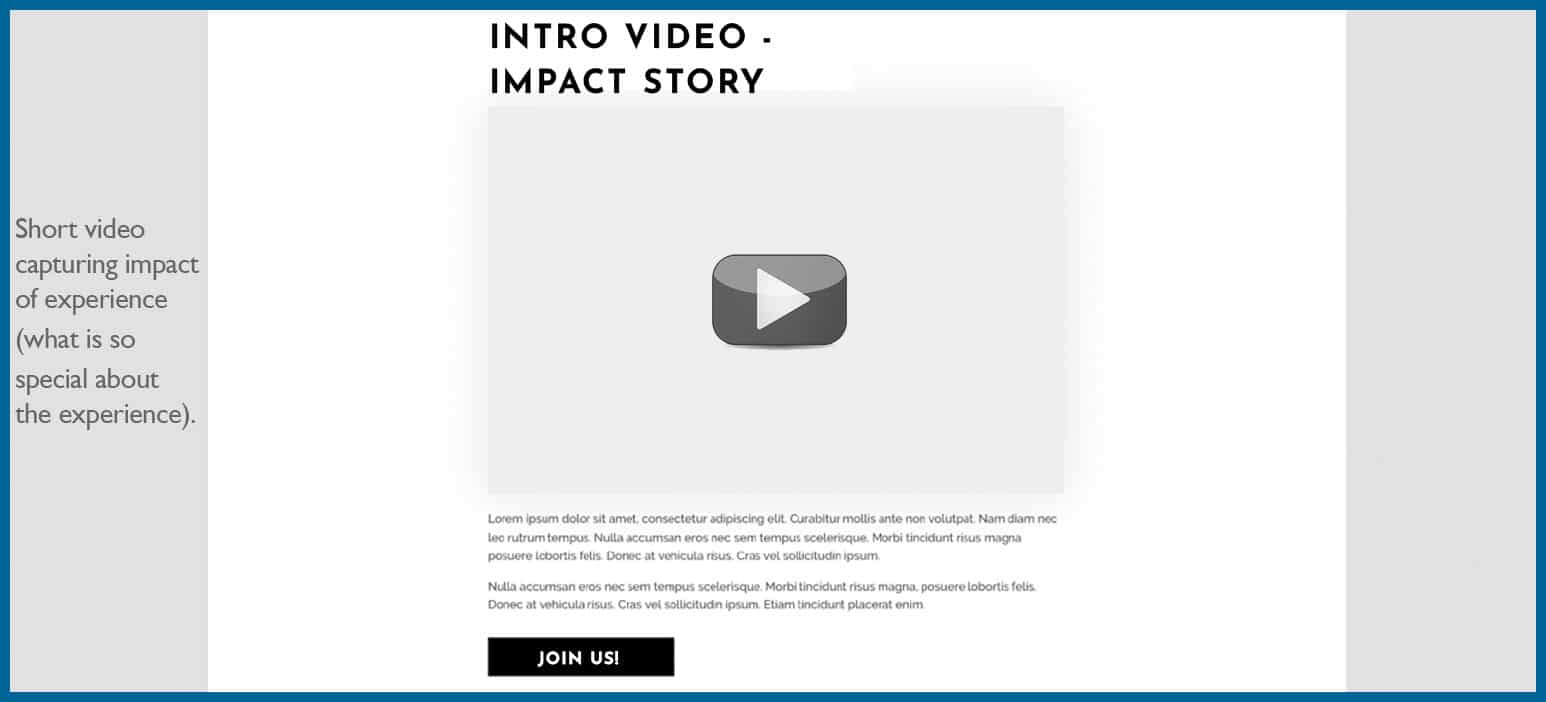 Origin Story
Following the impact story video is the 'origin story.' This describes how your business originated, describes the founder(s), its history, and ties it to your culture and mission of your business business.

Personal Story
Finally you'll include a few 'personal stories' from individuals who have been impacted by your business. These are customers and employees that share stories on how your business has touched their lives. It is also a place where you can share a personal story of your charitable work. This is a great way to humanize your business and show you're not just a faceless corporation.

Offer 
Depending on your business, this is where you'll offer your products and/or services, provide your visitor a discount, give a trial to your software or make a donation. 
If your visitors aren't ready to make a purchase quite yet, you'll still want to collect their contact information and thank them for their time. This is done by offering a 'lead magnet.' 
Lead Magnet
A lead magnet is a free offer for which individuals will provide their contact information. It can be a free product or service, free guide, free report, or free training that has a perceived value for which individuals are willing to provide their contact information.
Please note: It is important that you collect contact information from your visitors. It is a wasted opportunity if you don't. You want to know who is visiting your website and build a contact list or database so that you can follow-up with them at a later time. 
This data is a valuable asset to your business, one which you have absolute control over your marketing message. Unlike other marketing channels, you have the ability to directly reach out to this list through email, direct mail, postcards and text messaging. 
Most importantly, collecting leads provides you an opportunity to build a relationship with your visitors that will last long after they leave your website. If you don't follow-up, it's possible they will never return. If you do, you can nurture the relationship and eventually convert them to a loyal customer.
Final Thoughts on Best Websites Design for Conversion
Today's most effective websites are designed for conversion and are not the static virtual brochure of old. Today's online visitors are savvy and will not waste their time on a poorly designed website. 
Mastering the 'Hook-Story-Offer framework' will lead to a website that is simple, compelling and engaging to your visitors. That combined with a strong call-to-action including lead generation offers for visitors not ready to purchase will help  to convert your visitors into loyal customers.
To download the entire website wireframe, click on the button below. 
Website Wireframe
To get the entire website wireframe as an image, please provide your contact information.