tech solutions
top 5 Digital tools and tech software
accelerating tech investments
Most growing SMBs (71%) say their business survived the pandemic because of going digital
In the fifth edition of the "Small and Medium Business Trends" report (2021), SMBs continue to embrace digital technology and are upping the ante by accelerating efforts, convinced their survival depends on it. 35% of growing businesses with less than half of their business operations digitized said the pandemic accelerated their digital plans and more than half invested in sales and customer service technology in the past year alone.
More than three in five SMB leaders (62%) say their businesses could not have survived the pandemic if they were still using technology from a decade ago. So what technology solutions are SMBs investing in?
When you examine the past couple of years, the top 5 technology investments haven't changed. They include customer service software, email marketing software, eCommerce software, project/task calloration tools and marketing automation. You'll note a couple trends in the following graph. First, from 2020 to 2021 the overall amount of technology engagement increased overall. As the report noted, more and more SMBs are amping up their digital efforts because they feel their very existence depends on it.
You'll also note that the biggest gains occurred in customer service software, eCommerce software, and marketing automation, all three tech tools aimed at enhancing the customer experience. Customer service software is designed to provide businesses with valuable insight on the customer journey, starting with leads and nurturing prospects to ultimately become customers. eCommerce software enables customers to conveniently (and safely) shop for products and services from their homes. Finally marketing automation takes the repetitive, mundane busy work off staff's "to do" lists so they can focus on building meaningful customer relationships.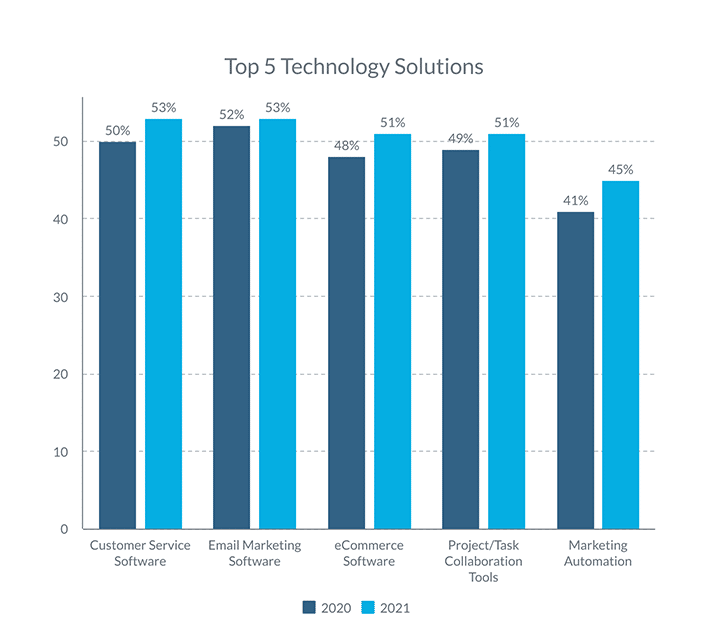 You'll also note in the following table that the rankings changed in the top 5. Customer service software moved up to the #1 position, tied with email marketing. Similarly, eCommerce software moved up, tied with project/task collaboration tools. While marketing automation engagement increased overall, its ranking stayed the same in both 2020 and 2021.